Caring for Teak Garden Furniture
We love teak at Bau Outdoors and customers often ask how to maintain their teak garden furniture, so we thought we'd give a bit of info on keeping your teak furniture looking great for years.
First of all, it's worth noting that good quality teak will 'silver' when left outdoors. This is a look many people love and if you want to keep your furniture this shade (and many do), then just leave it. If you get any organic growth on your furniture (moss etc), you can just give the furniture a blast with a normal jet washer – it will do the teak no harm.
If you want to maintain your teak furniture and refresh that deep yellow colour it has when out-of-the-box, this is the quickest and easiest way we have found to do it…
The image below shows two Menton garden armchairs… One is brand new – the other is five years old. As can be seen, the older chair has taken on a 'silver' look and can be distinguished from the new one (Note, the black Olefin pads have not faded over the last 5 years in the sun and rain… This fabric is brilliant!).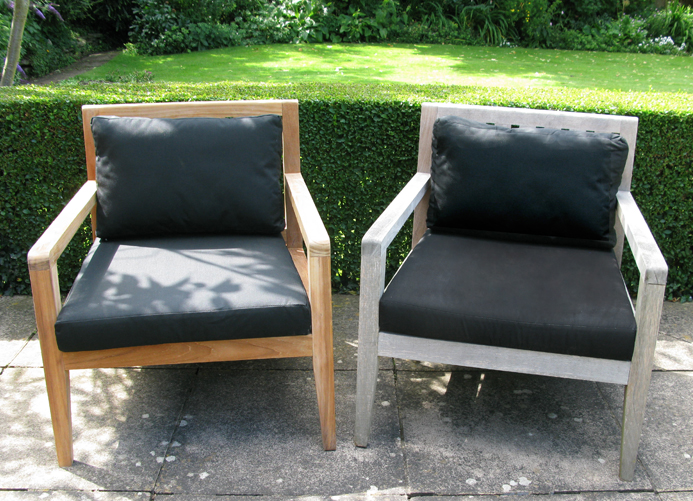 We have a set of Menton chairs and an Antibes coffee table to refresh, so here's how the refresh is done…
Shown on this 5 year-old teak Antibes coffee table are the bits we use. There are plenty of teak cleaners and teak oils out there, but these are the ones we use and have served us well, so these are the ones we recommend.
First, use the teak cleaner and cover the furniture with a light spray. Give a rub with some fine wire wool and give the cleaner a good 10 minutes to soak in and do it's thing. Next, you'll need a pressure-washer… This is essential and if you don't have one, borrow one from a neighbour – a hose will not do the job very well at all.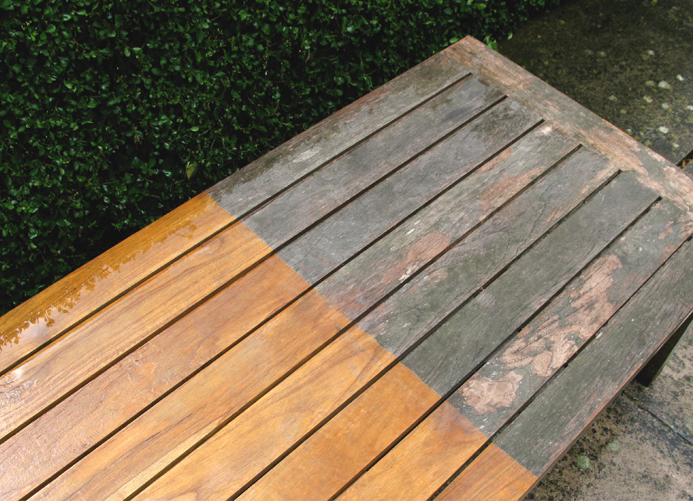 Systematically pressure-wash each part of the teak. Try to get a system, as if your furniture is not very old, it can be difficult to know where you have cleaned and you'll end up with patchy furniture (which nobody wants!).
The Antibes table below shows how effective the teak cleaner and pressure washer are in bringing your furniture back to an out-of-the-box state.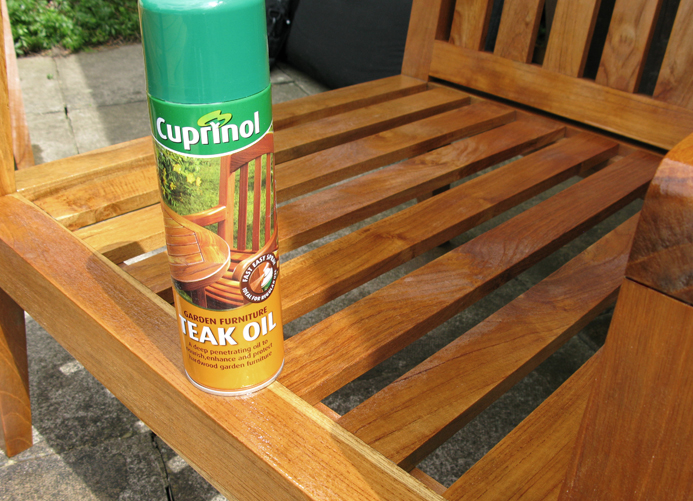 Next, we like to apply a light coating of good quality teak oil to nourish the wood and keep your furniture looking great for a long time. Wait until the furniture is completely dry and then apply a light coat all over, using a rag to wipe up any excess. Leave to soak in for a few hours and your furniture will look (and smell) wonderful… Easy!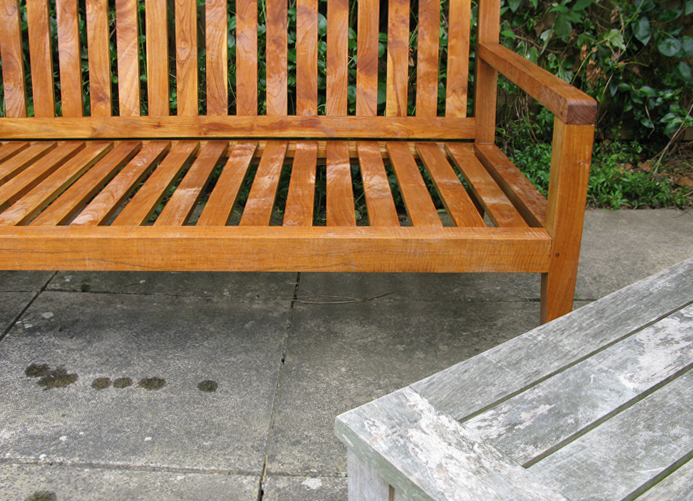 The difference between the silvered teak and the treated teak is quite striking and this can be achieved in a couple of hours. We'll do this again in another 5 years, so will update this article then.. (if we remember)!